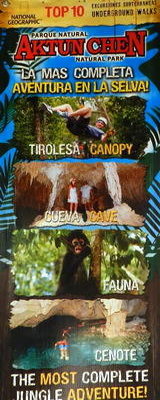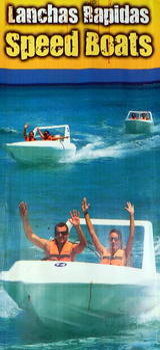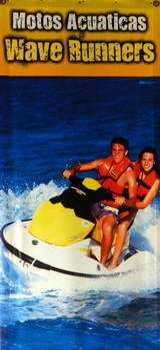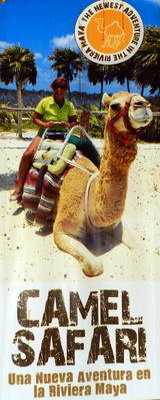 COSTA MAYA PORT CRUISE DAMAGES VIDEO
Cancun Tourism Weathers Storm
Airport, Hotels, Beaches, and Shopping Centers Operating at 100%

CANCUN, Mexico (August 28, 2007) - "We were very fortunate," explains CEO, Arturo Escaip of the Cancun Convention & Visitors' Bureau. "We experienced some rainfall and wind but we virtually came out of this storm unscathed. We learned a lot from Wilma in 2005, so when Dean was aiming towards us, we were very well prepared. We persuaded our guest travelers to refrain from visiting Cancun at least that weekend, and the ones that were already here, went back home. Emergency management committees met continuously prior to, during and after the storm to ensure that proper plans were in place to protect our visitors and residents.

When the storm turned south, the remaining tourists decided to stay in their hotels, where they were comfortably sheltered in newly reinforced structures. Now we are back to business as usual."

The Cancun International Airport is operating normally. Area highways are open, and all public utility services, including electricity, water and telephone communications, are fully operational. Shopping centers and tourist attractions are operating normally.

The beaches are open to the public and engineers are making assessments regarding the continuation of Cancun's beach reinforcement program.

"Our goal is to ensure that all visitors enjoy a superior vacation experience," continued Mr. Escaip. "Cancun is in the tourism business. The safety and well-being of all visitors to Cancun is essential to our economy and will always remain our first priority. After all, we want all of our visitors to continue to return to this premier beach destination for years to come."
August 22, 2007 – Tuesday morning, Costa Maya, Mexico's fastest-growing tourist destination and cruise port, was hit by Hurricane Dean after the Category 5 hurricane made landfall at 3:30 a.m.

According to Cesar Lizarraga, Costa Maya's director of sales and marketing, approximately 50% of the port's infrastructure, including the cruise ship pier, has been damaged by the storm. An early estimate indicates the port will remain closed for six to eight months while clean up and construction crews work quickly and efficiently to bring the port back to full operational mode. Revitalizing the port and surrounding areas represents a multi-million dollar investment.

Costa Maya officials are currently meeting with cruise lines with previously scheduled port calls to reevaluate schedules. Costa Maya hopes to see a speedy recovery and have cruise ships calling back to the port as early as mid 2008. Located on the southern Yucatan Peninsula near the border of Belize, Costa Maya is sheltered by the world's second largest coral reef and currently attracts all the major cruise lines to its shores. Costa Maya features a hotel, a wide variety of land and sea excursions, and port facilities consisting of three berthing spaces and a 70,000 square foot state-of-the-art Mayan entertainment complex that showcases the region's colonial heritage with all of today's modern conveniences. For more information about Costa Maya, visit www.costamaya-mexico.com or call 011 52 (998) 267 7700.
As we head on out to a self imposed hiatus, preferably a hiatus that will be substantial, given the subject matter, hurricanes, I'd like to remind everyone that while Cancun, and the areas within close proximity were fortunately spared any widespread damages from Hurricane Dean, that some, many, were not so fortunate.

The Southern Yucatan coastal region of Costa Maya, and further inland Chetumal and Felipe Carillo, and the surrounding locations, received heavy damage from surf, wind and flooding due to Hurricane Dean. Early reports are indicating hundreds of homes have been damaged or destroyed, roads flooded, crops ruined and the major tourism Cruise Ship port at Majahual has been severely damaged, limiting future tourism to the area, and subsequently, severely hampering the employment situation, of many hard working men and women in the region, as they seek to cope and recover from Hurricane Dean.


Tue 21 4pm Hurricane Dean didn't cause any damage in area:
Cancun - Playa del Carmen and Riviera Maya, Hotels Tours, restaurants are
in optimal conditions and weather is fine, this area was not affected
Xel-ha Xcaret open again next Thursday 23rd
International Cancun airport is working properly
Damages of Hurricane Dean on Mexican Caribbean, see announces from authorities
>American people: U.S. CONSULATE MERIDA WARDEN MESSAGE:
HURRICANE DEAN APPROACHING Q.ROO
>Canadians : l'Ouragan DEAN Canada
>Cancunenses: Anuncio para habitantes de playa del carmen y riviera maya
Consulate phones Airlines phones
Hurricane Dean damages - News is starting to trickle out of Costa Maya, the fast-growing Mexican cruise port walloped Tuesday by Hurricane Dean, and it's not good. After surveying the damage, officials say the port could be out of action for at least six months, maybe more.

Cesar Lizarraga, the area's director of sales and marketing, says in a statement that about half of the port's infrastructure, including the cruise ship pier, was damaged. Lizarraga didn't elaborate on the nature of the damage, but says that "an early estimate indicates the port will remain closed for six to eight months" for repairs.
WARDEN MESSAGE – HURRICANE DEAN APPROACHING QUINTANA ROO
U.S. Consulate Merida is sending this warden message to inform U.S. citizens of Hurricane Dean, which is expected to make landfall on Monday, August 20 somewhere between Cancun and Tulum in the Mexican state of Quintana Roo. The hurricane's current track shows that it may pass near Merida, Yucatan on Tuesday, August 21.
As of the afternoon of August 17, Hurricane Dean had crossed over the Lesser Antilles and was a category 3 hurricane with sustained winds near 125 mph. There are hurricane warnings and watches throughout the region.
The state government of Quintana Roo has issued a green alert, indicating that the current danger level is low. Yucatan State has issued a blue alert, indicating that the current danger level is minimal.
The National Hurricane Center predicts that Hurricane Dean will pass south of Puerto Rico and approach the southern regions of the Dominican Republic and Haiti, moving towards Jamaica, the southern coast of Cuba and the Yucatan Peninsula of Mexico. Providing accurate storm models at this time is difficult, and the trajectory and velocity of the storm can change at any time.
The Consulate recommends that the U.S. citizens in Quintana Roo, Yucatan, and Campeche prepare themselves for the possibility of the hurricane's landfall in your region. Citizens should identify their local shelter, monitor local media reports, and follow the instructions of local emergency officials. In some areas, adequate shelter from a severe hurricane may not be available to all who may choose to stay. Visitors should review and follow their hotel or cruise ship evacuation plans.
U.S. citizens also should carry their travel documents at all times (i.e. U.S. Passport, Birth Certificate, picture ID's, etc.) or secure them in a safe, waterproof location. We also suggest that American citizens contact friends and family in the United States with updates about their whereabouts.
Citizens should know that flights in and out of the area may be suspended at any time, depending on alerts from the Mexican government. Current flights may fill quickly and flight delays may occur. Travelers should contact airlines for the latest updates if they are planning to travel within the next week. The storm also could affect access to sea ports similarly.
For the most-up-to-date information on Hurricane Dean, please visit The National Hurricane Center's website at http://www.nhc.noaa.gov.
The Mexican government uses a color-coded system of alerts proceeding from blue (minimal danger) to green (low danger) to yellow (moderate danger) to orange (high danger) to red (maximum danger level). To learn more about this system, visit http://www.yucatan.gob.mx/procivy/colores/colores.htm.
To check the current alert level in Quintana Roo, U.S. citizens should visit the local government's website at http://www.qroo.gob.mx/qroo/Temporada/index.php. Click on "Aviso de Sistema Tropical" for information about the storm.
To check the current alert level in Yucatan State, visit http://www.yucatan.gob.mx/procivy/index.jsp.
Further information on hurricanes and hurricane preparedness is available on the State Department's website. Check the following links below:
http://travel.state.gov/travel/cis_pa_tw/hurricane_season/hurricane_season_2915.html
http://www.travel.state.gov/travel/tips/emergencies/emergencies_1207.html
The U.S. Consulate in Merida, Yucatan services the states of Quintana Roo, Yucatan, and Campeche. The Consulate remains open for business but could suspend operations at any time as the hurricane approaches. The ability of the Consulate to provide assistance after the hurricane may be limited by communications disruptions and by conditions on the ground.
The Consulate can be reached during its regular business hours (M-F, 7:30 a.m. to 4:30 p.m.) by telephone at 999-942-5700; by fax at 999-942-5777; and by email at meridacons@state.gov. After hours, a duty officer can be reached by calling the Consulate's main number.
The Consulate maintains Consular Agencies in Cancun, Cozumel, and Playa del Carmen. Contact information for those offices is below:
Cancun: (tel) 998-883-0272 / (fax) 998-883-1373
Cozumel: (tel) 987-872-4574 / (fax) 987-872-6662
Playa del Carmen: (tel) 984-873-0303 / (fax) 984-873-0481
The U.S. Embassy in Mexico City will maintain its business hours (M-F, 8:00 a.m. to 5:00 p.m.). You can reach the Embassy by telephone at (01-55)5080-2000; by fax at (01-55) 5525-5040; and by email at ccs@usembassy.net.mx.
Please stay posted for future warden messages.
Thank you and stay safe,
To make a reservation for the tour you selected, simply complete the form below and click the "submit information" button at the bottom of this page. After finalizing your reservation, you will receive a confirmation screen and email with your confirmation number for the tour you selected.

By Phone from US dial +52-998-848-2904

dial from US to our cell +52-1-998-149-2524
From US you can dial (local in NY area) 1-646-862-6030
if you are calling from Mexico land line dial 045-998-149-2524
Send us a SMS or WhatsApp to +529981492524 from your cell and we respond by this way

with Skype

Day Tour

Passengers
ADULT CHILDREN AGE
Hotel Name & Place
(we pickup at your hotel)
Name
Last Name
E-mail
Telephone

land / cell


we can confirm to your cell by SMS, is useful to contact us when you are at hotel in Mexico
Address
City
State
Country
Post Code
Comments

BLILLING INFORMATION We charge only after you accept reservation

Credit CARD BRAND
MASTER VISA AMEX (using PayPal)
Credit CARD number
Card Expiration Date
Security Code